Yes, you read the title correctly. :)
When fabricating a new exhaust, wastegate recirculation piece, or a new header, there are many instances where you may not be able to use a basic single-axis-adjustable tubing notcher. And for my circumstance; my notcher will only work up to 2" diameter. When working against these variables, this is the solution that I came up with.
Tools needed:
1 - box spaghetti
2 - zip-ties (length must be a bit more than the circumference of the pipe that you're working with)
1 - roll of adhesive tape. (I used masking tape, but duct tape would probably work too)
1 - paint marker or other marking device that is capable of marking on metal
Preparation: Make sure all of the edges of the pipe are free of sharp edges and burrs.
Step 1:
Loosely tie both tip ties around the pipe.
Step 2:
Begin to feed the spaghetti underneath the zip-ties in a uniform fashion. Single file, and only in one layer. Be sure to leave enough 'slack' in the zip ties to allow for the spaghetti.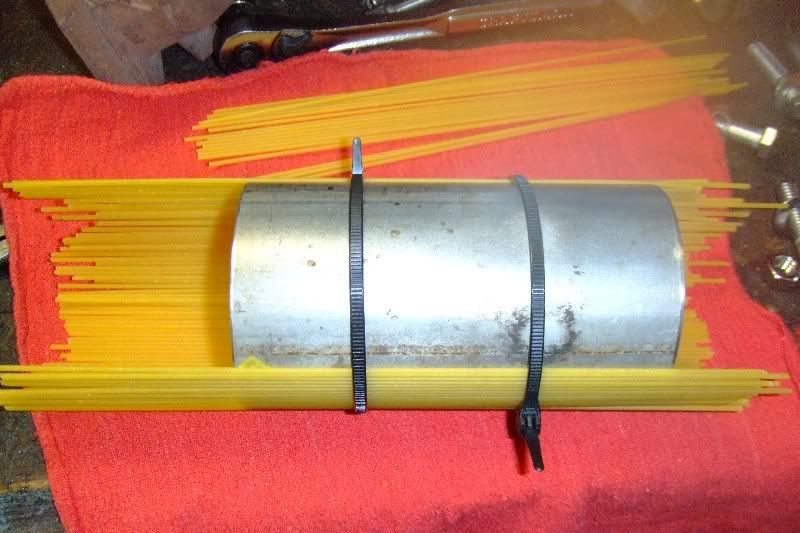 Step 3:
One the pipe is completely wrapped with zip ties, you may need to adjust the tension of the zip-ties. You'll want them to be tight enough to retain the spaghetti and keep it from falling out, but loose enough to be able to slide up and down along the pipe.
Step 4:
With a few inches of spaghetti hanging over the edge of the pipe, take the assembly and fit it to the area in which you want the notch to be. You will need to "massage" it into place, allowing the spaghetti to slide and form to the angle of the destination. Once that is complete, you will have the shape of your notch in the spaghetti noodles, and it should look something like this:
Step 5:
At this point, you can use the adhesive tape and wrap it around the spaghetti to keep them all in place. Then, slide the spaghetti down along the pipe to expose the notch-shaped area to the pipe.
Step 6:
Now, you can use your paint market and trace the notch shape onto the pipe. Once this is done, you can remove all spaghetti, zip ties, and tape. You should be left with something that looks like this: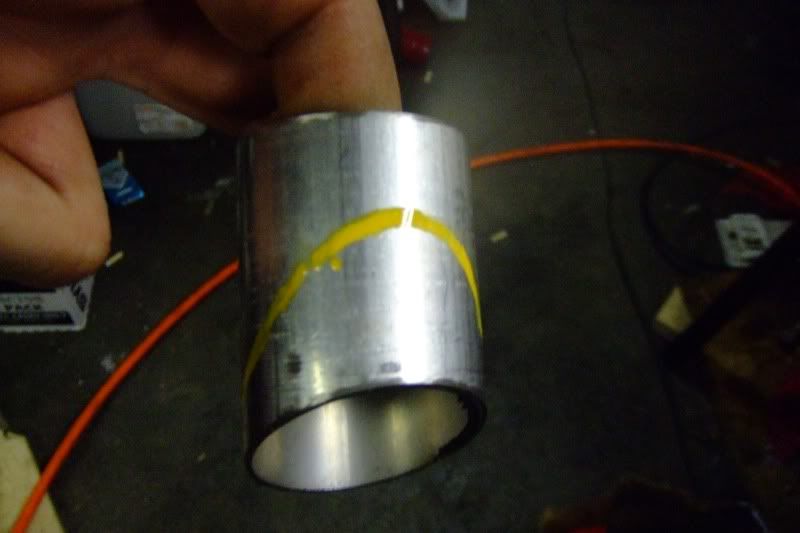 This is a pretty accurate shape of the notch that you're looking for. Now, you just need to cut it out and finish fit it. For this, I used an air-powered 4" cut off wheel, and then cleaned up the tight areas and edges with a carbide bit. The final piece was a perfect fit.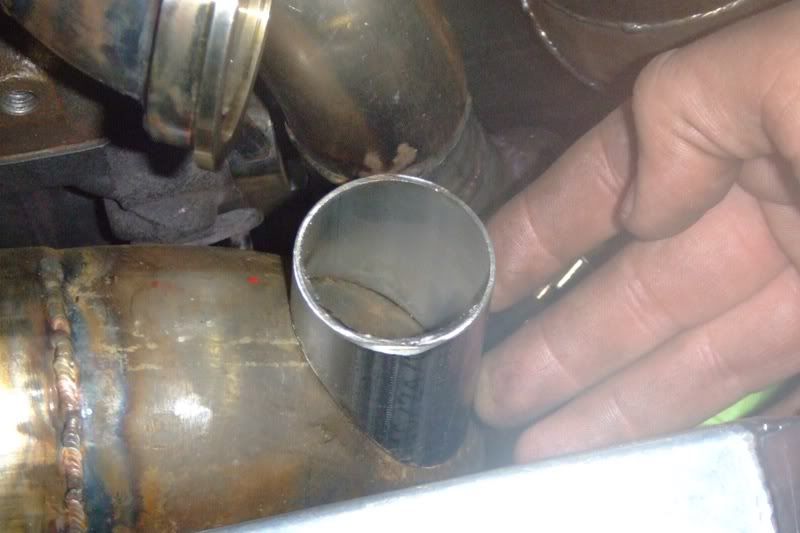 Enjoy! I hope this helps someone, or provides thought for ideas on how to improve this method. :)