Ok here is how you can paint your ugly stock rims too make them look a lot better and other parts on your car. Also motor parts. For less money than bringing it to a shop. and if you scratch it you can touch it up easily.
Where i work for a real paint job of small parts we charge about a $100 dollars a part depending on the size. I did this just to see how it would turn out and how cheap i could do it. I am proud of it so if you want to give it a shot heres some steps to do it.
I painted my rims, the back panel in between the rear lights, windsheild whipers, grill parts, motor parts and alot of other stuff
Parts list
1. Tape $3 a roll about
2. A.For any type of bare metal surface you will need a acid etch primer. (i like Acid #8 in the pic) $4-10 a can (need 2 cans for rims)
B. for plastic parts buy a non acid plastic primer if desired not required though.
3.paint of desired color. Varies in cost. You have to get high heat for motor parts.
4. scotch brite pads. get corse and fine. #5-10 depending on how much you get.
5.soap
6.paper
7.wax and grease remover(optional)
8. use a clear coat. i have never bought any in a can befor but i know they make them cause ive seen them. i used a clear coat i sprayed out of my gun. but like most of the other can paints i bet its around $3-6 a can
additional info.
if you want to use less paint u can color match your primer or use a shade of primer closer to your paint color. Example use a darker primer for darker colors. lighter primer for lighter colors.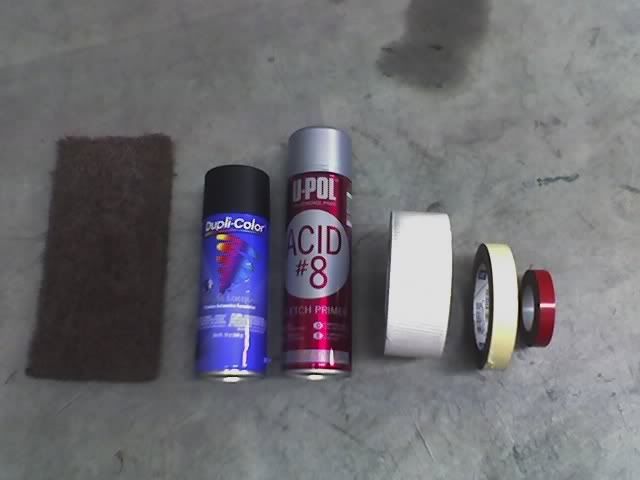 Steps on how to prep and paint.
1. First step is to remove or tape of the part.
2. Next clean off all the dirt and grease.
3. tape off all places not desired to be painted
4. prep surface with the corse scotch brite. then with the fine pad. make sure to make the part look like it has been scuffed everywhere for good bonding. Expecialy for plastic parts make them look really hazzy.
5. blow surface off or if you want wax and grease remove it. (dont not us wax and grease remover on plastics it may melt them)
6. A. prime the part with light coats about 6-10 inches away from the part. you dont have to get everything covered in one coat do multiple coats so you have less of a chance to put runs in the primer. If you dont run the primer you will not have to sand the runs out of the primer. After priming let it stand about 10 minutes befor adding another coat.
B. For those who did run the primer sand in a X motion with 600 grit sand paper to eliminate the run but do not go to far or u will have to re prime the spot.
7. let it sit for a for about a half hour then start to coat the part with paint. do this very carefully so you dont run the paint. allow about 15 minutes in between coats or what the can says to do(i did about 4 light coats to get the rims done)
8. Let it sit for about a hour or two. in spect for any missed places. touch up if needed. remove tape and install.
9. after about an hour apply clear coat about 2 or 3 coats same rules as paint. or us the can instructions.
9. admire your beautiful work.
For my rims and other parts i have less than $60 into it.
here are some pictures of them and while the were getting painted.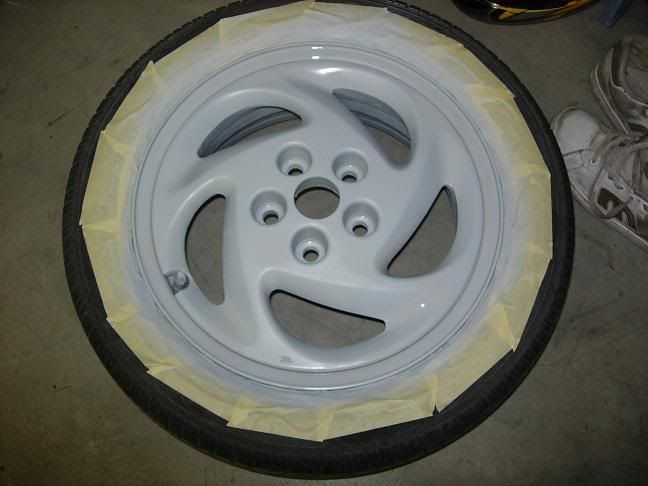 2nd coat of primer still wet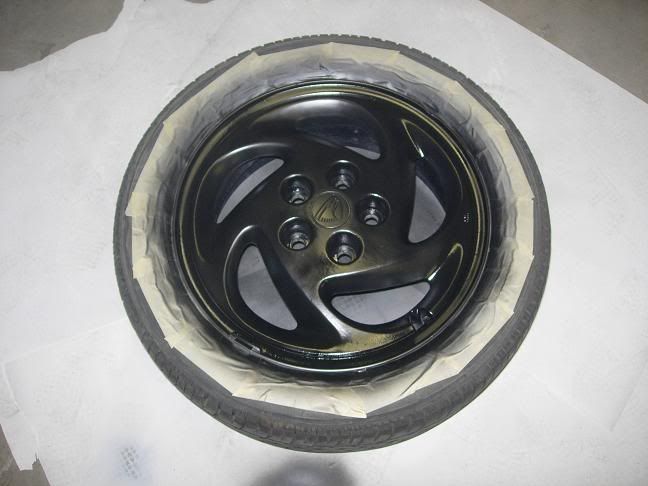 2nd coat of black still wet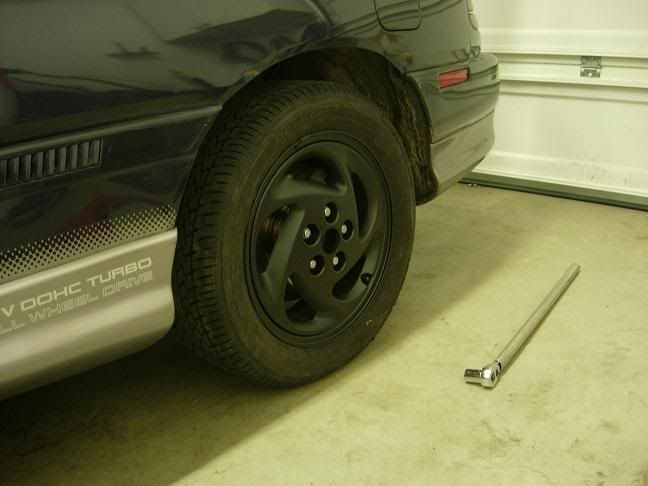 all done 2 coats clear, 4 coats black, 3 coats primer, 20 minutes of sanding per wheel.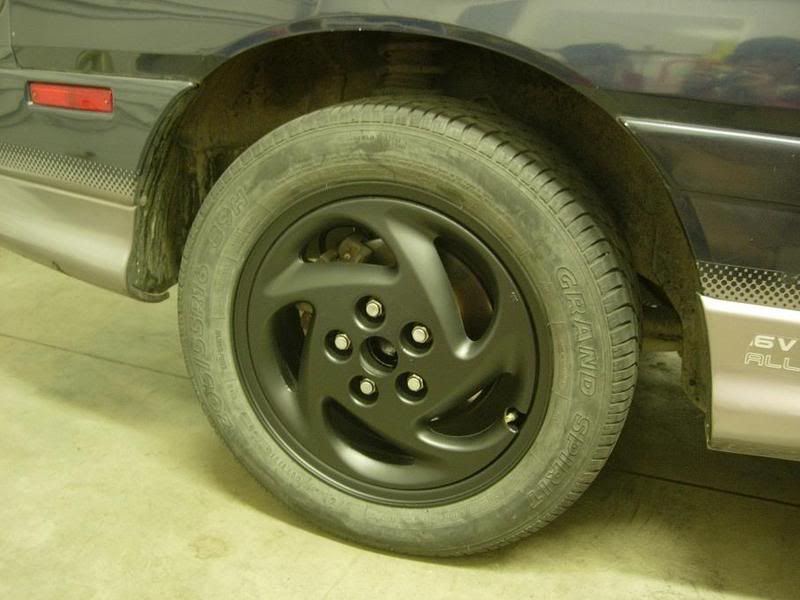 another pic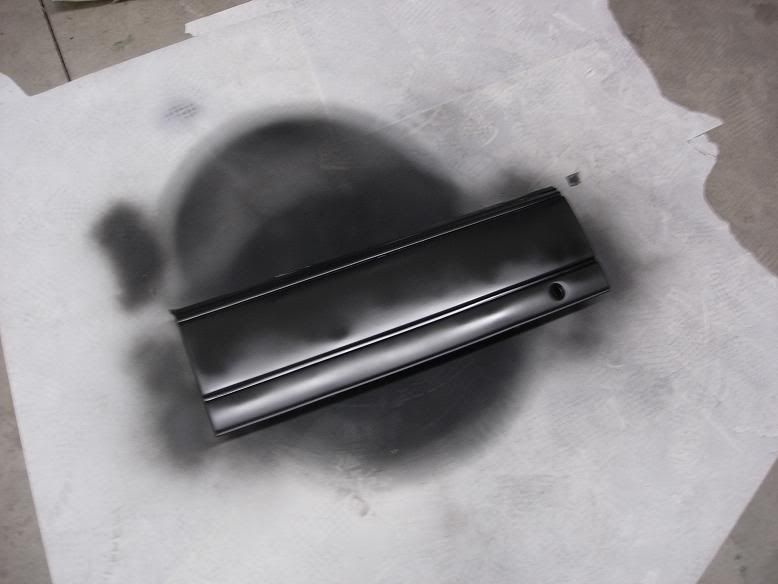 back panel removed sanded primed and painted still wet in pic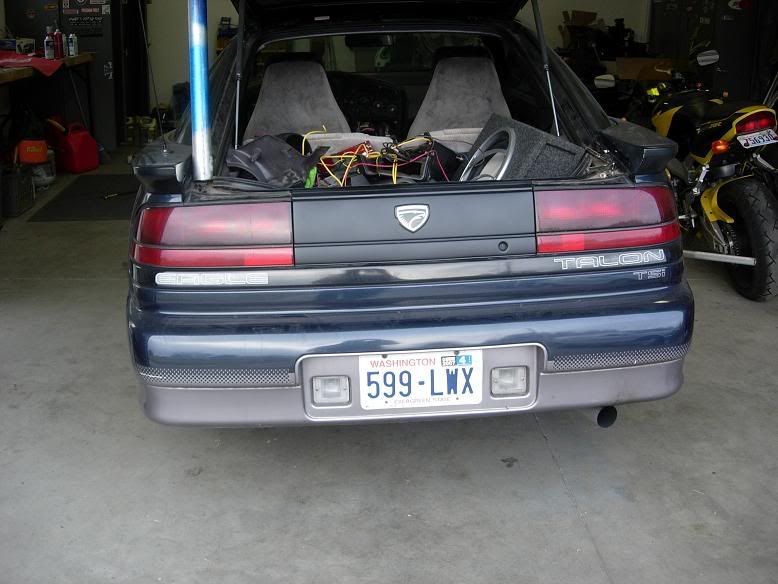 back piece installed retaped emblem on with 3m emblem tape
valve cover painted with high heat paint. then for the lettering i went over it with 100 grit sand paper for the brushed aluminium look.
ill post more pics of my other parts later.
pm me for more info on painting or any questions.