| | |
| --- | --- |
| Site Help and Tips | |
Welcome to DSMtuners
You are currently browsing the site as a "Guest", which means your are either not registered or not logged in. This also means you have limited access to our site and cannot participate - you also are browsing the site with more advertisements than logged-in members.

Register an account and start participating!
Account Activation and Email Confirmation
When you register a new account on our site (or change the email address in your profile for an existing account), an automated email is generated and sent to the email address you entered containing a link that needs to be clicked in order for your account to be activated. You will not be able to participate on our site until you do so. That's our way of validating the email address you entered.

If you lost your activation email, you can have a new one sent by clicking here. Be sure to check your spam folder if you don't receive it. If you're having trouble receiving activation emails from our site, be sure to read this announcement.
Usernames & Accounts are permanent
We will not change your username for you. It's just something we don't do anymore. Please choose your username wisely. You're stuck with it. Once you register an account it is permanent. You cannot delete your account or your posting history, and we will not do it for you. If you no longer wish to participate on our site, you simply can choose not to log on. You can set your profile up so that nobody is able to contact you via PM's or emails, and you can unsubscribe to anything you've subscribed to in order to not receive any type of notifications from the site in the future. That will essentially make your account dormant.
Login Problems? Try Clearing Your Cookies
Sometimes people have problems staying logged in to our site. Or they can't login like usual. If you are having login problems, try the following:

- Log out of the site and close your browser.
- Open a new browser.
- For Internet Explorer, go to Tools > Internet Options > Delete Cookies.
- For Firefox, go to Tools > Options > Cookies tab > Clear Cookies Now.
- Point your browser to our site and log in and click the "Remember Me" box.

This solves 99% of the login problems. If it doesn't, contact us.
Warning System/Rule Reminders
We've implemented a system that will make it easier for our Moderators to contact users who violate the rules or don't use good forum etiquette. Before this system was in place, we had four choices when a user ignored the rules - we could A. let it slide and say nothing B. send the user a PM or email asking them not to break the rules C. post a reply in the thread where they broke the rules and tell them not to do it again, or D. suspend or ban them. Those options all had their drawbacks and in most cases ended up detracting from the discussions.

If you receive a warning, consider it nothing more than a different form of Private Message asking you to be more careful with your posting behavior. If you get warned for something you feel is trivial, do not complain about it as if you were being banned. Nobody is picking on you, we're just trying to maintain the quality of our forums. A warning is not a form of punishment like being banned. Nobody other than you or the moderators can read the details of why you were punished. It's a private affair and is not meant to be a symbol of disciplinary action. It's really not a big deal.

Why is a Warning a good thing? Because it keeps the moderators from having to disrupt a discussion to tell a user to follow the rules. It allows us to tell you what you're doing wrong privately. And if a user ignores their Warnings and keeps being disruptive, they'll eventually be automatically suspended. Everyone gets a chance to change their ways with this system.

Next to your name in each of your posts you'll see something called "Warning Level". Next to it will be a number - zero means you have no warnings. If you have anything other than zero next to your name, it will show up in red. Once you've reached the maximum warning level (5) you'll be automatically suspended for a week. The closer you are to 5 warnings, the closer you are to being suspended. Be careful, as violating rule #1 will count as two warning points against you instead of one. Click on the number to view your warnings and see what you were warned for. Only you and the Moderating team can view your warnings. To avoid warnings, all you have to do is abide by the rules we have posted. It's that simple. Warnings will be automatically dropped after 30 days (minor violations - like spelling and grammar - will be dropped after 7 days), making your warning level go down.

Basically, we want you to pay attention to your Warning Level and make sure you're playing by the rules. We don't want to have people suspended, but we've found more people are ignoring our policies. Help us make this a fun and helpful place to visit by participating in a positive manner. If your account gets temporarily suspended or banned, do not attempt to register a new account on our site. It will be deleted.
Lost Passwords
If you've lost of forgotten your password you can retrieve it by following this link.
Reporting Posts
There are two ways you can help us keep this forum clean and orderly. Two links you can click - "Report this post to Moderators" and "Report misinformation/hearsay". Use these features whenever possible.

1. Report this post to a Moderator:
This link is to be used to report posts that need moderating attention. Spam, self promotion, flamewars, problem members, personal attacks, bad forum etiquette, undescriptive thread titles, thread bumping, bad grammar or getto speak, inappropriate content, off topic posts, repetitive or duplicate threads which have been discussed several times in the past, etc. If someone is stepping out of line, report the post, quietly and move on. Do not respond to a post that needs to be reported. Do not reply in the thread letting others know you're reporting it.

2. Report Misinformation/Hearsay:
If you're a New Member, you won't have access to this tool. The misinformation link is for just that - reporting misinformation and hearsay that is being spread by someone who has no experience with the subject matter. This alert will go to the Moderators and Wisemen groups. We want to limit the amount of people who give advice on topics they have no experience with. If someone is spewing bad info, report it, quietly. And again, do not reply in the thread letting others know you're reporting it.

Misuse (or overuse) of these reporting tools will lead to suspensions and account termination. Help point out the obvious offenses, but please don't don't knit pick. These tools are in place to give the users an opportunity to help keep the forums in order. It's your chance to help out - don't abuse it.
Reputation Points System
The Reputation Points System was created to help members immediately identify the helpful/knowledgable members of the site - and conversely, those who post misinformation. The more helpful you are, the more trustworthy you'll become in the eyes of your peers. The only people who can give you points (positive and negative) are the Wisemen and the Moderators.

How the system works:
It's actually very simple. Post detailed, helpful tech info and you'll be eligible for Reputation Points. Someone will recommend you be given points or a Wiseman/Moderator will recognize your contributions and will give you points. If you post misinformation, you may receive negative reputation points. Be sure you know what you're talking about before you post. Answering a question with misinformation is just as bad, if not worse, than not answering the question.

How to give points:
Only Wisemen and Moderators can give out points.

How to build your reputation and earn points:
The best way to build your reputation is to answer tech questions in great detail with correct information, without being rude or insulting. Only give advice on subjects you have first-hand experience with. Do not post hearsay or misinformation. Use good grammar and the spell check feature. If you're a helpful contributing member in our community, the site leaders will notice and give you positive reputation points. Another great way to receive points is to post detailed Articles/Tutorials for others to learn from.
Logging In/Logging Out
If you're having trouble logging in or out of our site, please reference this announcement:
How to Use the Forums
For an introduction on how to use our Forums, read the Welcome Page:

Welcome to our Forums
How to Use the DSM Journal Section
The DSM Journal section here on DSMtuners are to be used for updates on a project or build, a track day experience, or race season updates. Think of it as a diary where you'll be posting entries over time. Do not post about non-DSM related topics or about your personal life - use the Hangout forum for that stuff. For more information on is and is not allowed in the DSM Journals section, read the DSM Journal Rules.

Starting Your DSM Journal:
Before you post your first DSM Journal Entry, create a title for your Journal. Choose something that encompasses your overall goals and plans for your DSM. Some examples of good titles include, but are not limited to: "95 GSX Build", "Project 11-second 2G", "91 VR-4 Track Diary", or "TSi 2009 AutoX Season Reports". You can also post a description of your journal to give more details on your plans and goals for the car, and what people can expect to read in your journal. You can create or change your DSM Journal Title here. If you do not title your journal, it will automatically be titled for you, the convention being "Member Name's Blog". See the screen below to get an idea of where the DSM Journal Title (green arrow) and Description (orange arrow) fields are: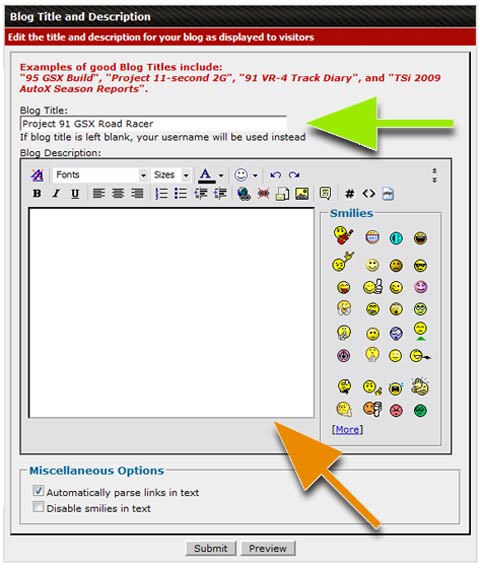 Posting a DSM Journal Entry:
Now that you've titled your journal, you can start posting entries - if you've already posted entries, don't worry, you can always go back and edit your title at any time. To post an entry, think of it in terms of a daily or weekly journal entry. The entry should take on the form of a short "chapter" of your build or your race season experience. If you're posting a track day write-up, the entry should contain the entire write-up, as opposed to just part of the write-up. Put some thought into how to structure your journal entries with the idea of how you'll be linking people to them and how they'll be read.
The entry submission form has a few elements that you'll need to fill in: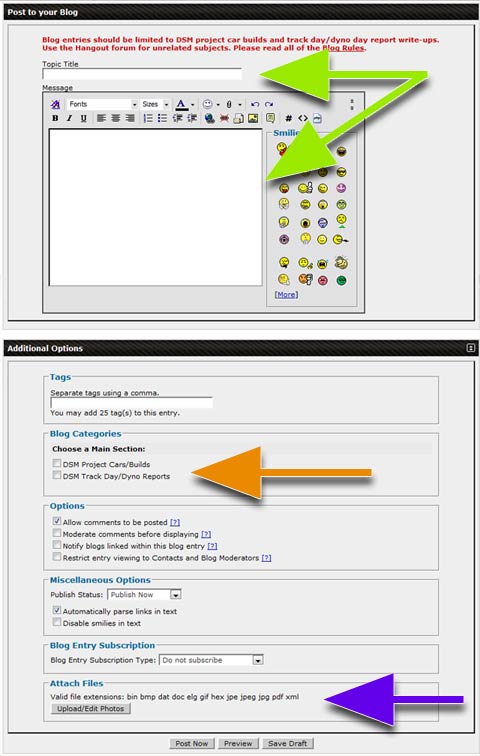 Choose a "Topic Title" for your Entry and then post the actual content of the entry in the "Message" field (green arrows). The entry title should be descriptive of what the journal is about. If you're posting about a specific part of your project, use the title to describe what is being done at this stage of the project. If you're posting a race diary write-up, use a title that describes the venue and the date of the event.
Select how your entry will be categorized. Users will be able to browse entries based on categories. Choose which category your entry best fits into (orange arrow).
If you have photos (which you should - a journal entry without photos is pretty boring) then you'll upload them by clicking the "Upload/Edit Photos" button towards the bottom of the form (purple arrow). Once you've uploaded your photos you can then go back and organize them within your entry. You do this by clicking your mouse in the Message field where you want the attachment to be displayed so that the cursor starts flashing. Then you move your mouse over and click on the paperclip icon just above the Message field. You'll see the file names you just uploaded. Select the appropriate file for the spot where your cursor is flashing. You'll see some code added to the entry. Preview the entry (using the Preview button at the very bottom of the form) to make sure the entry displays the way you want.
That's it! If you have more to add to the entry and don't want it posted publicly, you can save it as a draft and finish it later. Try not to make a habit out of this though, as you might forget about the entry.
Avoid Thread Bumping
We have a feature in place that prevents users from being able to reply to their thread twice in a row in a 24 hour span. When they do, their post gets auto-merged with their previous post. This only occurs if nobody has replied to their last post before them. We consider this a thread bump, and we discourage it.

If you aren't receiving a reply to your question, it's probably because you either:
Didn't supply enough information for someone to effectively answer your question
Didn't wait long enough for someone who can help to come across it
Didn't use a descriptive thread title
Didn't do much research, asking a question that has been answered numerous times before, or is answered in an FAQ somewhere.
Basically, our no-bumping policy forces people to ask better questions, do their research first, and use better thread titles. If you are not a New Member and are having trouble with your thread getting pushed off the first page in the Newbie forum due to all of the activity in that forum, we highly suggest posting your question in a more appropriate forum. The Newbie forum is for New Members.
Donations
If you'd like to make a donation to the site, you're welcome to do so via Paypal (credit cards accepted via Paypal). Donating does not change your membership status and it does not upgrade your account in any way. Probationary members are still required to meet the same minimum requirements listed in the Forums FAQ even if they make a donation.



We appreciate the gesture and will work hard to keep providing a free resource worthy of your contribution. Thanks, DSMtuners.com