Blog Title: '97 TSi AWD Auto 2.4 Build Project
Project log following my 2.4 build.
Little Things Update
Posted 05-10-2011 at 05:13 PM by
VETDRMS
---
I haven't had a lot of time to drive it and sort out all of the bugs but it is running pretty good! I just switched from the Brad Penn SAE 30W to Valvoline 20w50 VR1 at 150 miles and there is just under 200 miles on it now. It doesn't smoke or burn oil and there are no leaks.
It is now time to start cleaning up a few things that were skipped in the rush to get it running while I had a shop buddy around.
The new OEM spark plug wire looms worked well with the OEM plug wires and the upright Evo III coil pack. I also picked up a new brake reservoir cap and oil fill cap.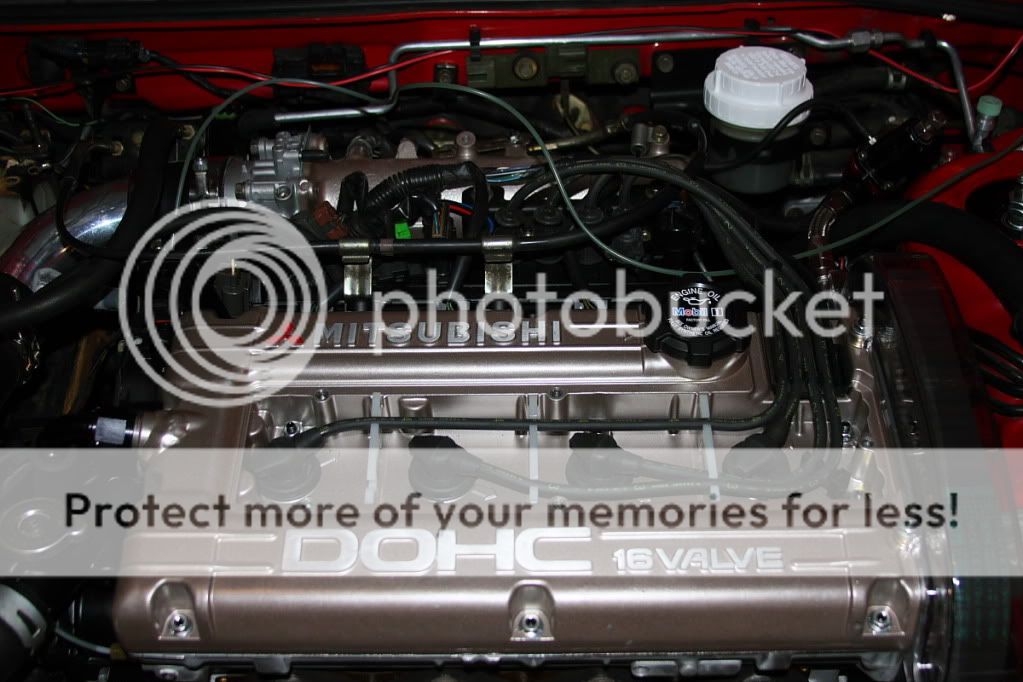 I also hooked up the stock oil pressure sender and dummy light off the oil filter housing. I now have a bunch of different BSPT fittings sitting around to dry different setups but I think this will work for now. The first fitting off the oil filter housing is a steel 1/8 BSPT male to female and the second fitting is a nickle plated brass 1/8 BSPT cross so both the sensors will screw into it. The fitting going to the oil feed line is a -4 AN male to 1/8 BSPT male adapter that is also steel. I could not get a steel 1/8 BSPT cross.
There are still a few ugly wires running around that need to be cleaned up and I still need to move the mini battery down to make room for the JMF catch can. For now a hose is just ran down to the ground right from the valvecover. I will probably have Andrew at Frontline Fab build me an overflow tank that I can tuck up in the stock location.
I am still have a few issues. There is a more knock than I would expect at only 7psi and low timing (12 degrees). I expected the 9.8:1 compression ratio to make it borderline pump gas friendly. I think it may be mechanical noise as there is some vibration/resonance at higher rpms. I posted another thread about the dash lights coming on and no charge at 6000+rpm. I think the alternator might just be bad. I did run a 4AWG ground wire from the alternator to the frame. Voltage is a pretty steady 14v even with everything running.
Even at 7psi this thing rips, I can't wait to turn it up.

Comments
Posted 05-10-2011 at 05:56 PM by

307dsm

Posted 05-10-2011 at 09:24 PM by

VETDRMS