Blog Title: Scuba_Steve's 1991 Talon AWD build!
This is my blog on my first DSM build. I bought the car while I was in Iraq, which is where I had time to do a good amount of research. When I get back, it is time to do some work on the car, and get it upgraded!
My introduction (as well as the cars)...
---
I am beginning this blog with a copy and paste out of my intro thread. I couldn't start a blog back then due to insufficient posts... Rest assured that I have edited this to be a bit more up to date.
So here we go!
Hi everyone,
My name is Steve, and I am glad to be a new member to this board. I don't have a huge amount of automotive experience, and I have never touched a DSM vehicle, so I admit I have quite a lot to learn. Luckily, thanks to message boards such as this one, so much information is easily accessible. I have been reading for weeks now!
I am in the Army stationed at Ft. Hood, TX, although I am currently in Iraq. Some of my other hobbies include family time, video games, guns, scuba diving, and my 120 gallon coral reef aquarium.
So what got me interested in DSM. As of a few weeks ago, I hadn't even heard the term before. I had decided that when I got home from Iraq this deployment, I wanted to have a sports car/project car waiting on me. I had been looking for that perfect buy for the perfect price for a while. My wife told me they were having an auction on post for cars that had been put into storage, but not claimed for years. So I had her get me a list of everything sporty with a manual transmission. The only thing that really stood out were 4 eagle talons. I had remembered an old friend raving about his former AWD talon that he drag raced (street). So after doing some research I found that the TSI AWD was definitely the way for me to go. Only one of those talons met that bill. A 1991 with quite possibly the worst paint job known to man. IMO, I perfect little sleeper to get my hands dirty with. Being an auction, I figured I could get it for a steal! I was shocked when she told me that one of the 100 or so car dealers buying everything in sight paid over $1200 for it. Now this is a car with an unknown history, horrible tires, no radio, and bone stock. Thank god, probably not the best car anyways; now at least, I had my sights set. Back to the searching process...
Only a few weeks later, I had finally found something on Craigslist. It was the exact same car, only better in nearly every way imaginable. Again, thank god I didn't buy the first one! A few days, and $1400 later, that car was sitting in my driveway, waiting for my return!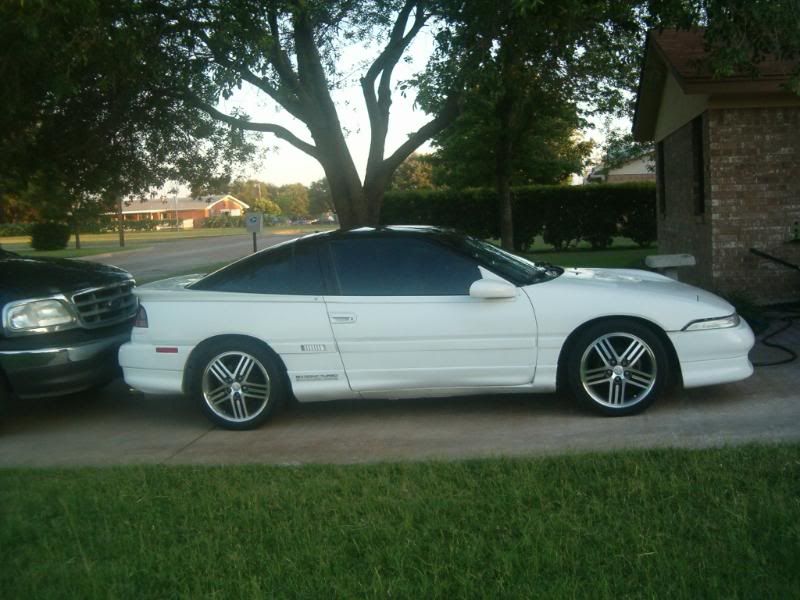 So on to the car... After all, the intention of this blog is to be my build log, not only my introduction. As I stated, the car is a 1991 Eagle Talon TSI AWD. Now I haven't actually seen many of these features, so I'm going by the description given to me and the observations of my wife who has limited experience with cars. From what I can tell, the car is very far down the upgrade path, near stage 2. First of all, I was told that most of the emissions were bypassed. In Texas, we have vehicle inspections, but it is just visual and a brake test. Next, Autometer boost and AFR gauges in a pillar dual pod. I plan on replacing the AFR gauge with a LC1 WBO2.
I was told he was informed by the state inspectors there is a suspected hole in the stock downpipe. They can tell this by the sound it is making, therefore it is not passing inspection. This was a perfect reason for me to decide to change out the rest of the exhaust with 3" pipe.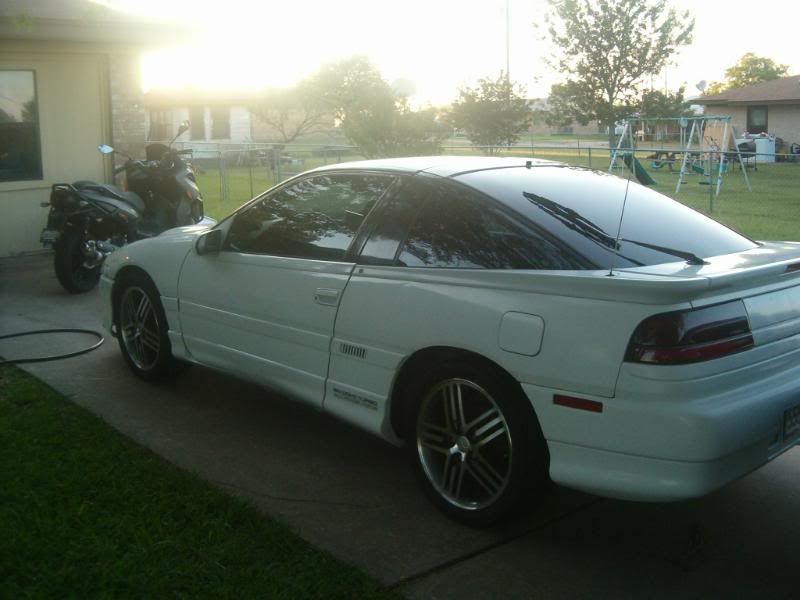 Logging and A/F comes next. The car has an S-AFC, and an EPROM ECU. I plan on burning my own chips. Also a Palm V is included, but I need to make my own OBD1 cable for it.
Next, I was told the engine was professionally rebuilt about 1000 miles ago, a $1200 job. I am having one problem with that statement now that I can see it better. It seems like few of these parts be cleaner than they are on a newly rebuilt engine. Mainly some carbon I can see in the picture under the head that just doesn't look right to me on such a fresh engine.
The turbo is hard to see in the pictures, but I am told it is a true MHI EVO 16G. My wife said she could not find any markings on it to properly identify it. I will see for sure when I get home.
Lastly, the car has Eibach drop springs. The seller did inform me of a few problems that would have to be taken care of soon. Front ball joints, tie rod ends, struts, and the right outer half shaft boot.
So onto my plans for the car immediately after I return. I want the car to be running in the best shape it can be, and me not have any questions on when things were last done.
I. Change fluids
a. Oil
b. Tranny
c. Transfer case
d. Diff
e. Antifreeze
II. Replace belts
a. Timing
b. Balance shaft
c. Accessory
III. Replace filters
a. Air
b. Fuel
c. Oil
IV. Replace ignition parts
a. Spark plugs
V. Replace steering parts
a. Tie rod ends
VI. Replace suspension parts
a. Front struts
b. Front ball joints
VII. Replace drivetrain parts
a. Passenger front half shaft
b. Clutch
VIII. Replace exhaust parts
a. Wideband O2 sensor
b. 3" Downpipe (bought)
c. 3" Catalytic converter (bought)
d. O2 housing
IX. Replace intake parts
a. Intake pipe
b. 2g MAS (bought)
X. Fuel system
a. 880cc Injectors
b. EVO 8 fuel pump (bought)
Now this is all done on a very tight budget. I am estimating around $1000 for all of the above work to be done myself. I realize this seems low, but I am pretty confident I can do it. Now I know there are still other upgrade that the car will need, but I have to start with what I can afford. With all that being said, I am going to wrap this up for now.
Comments