Blog Title: TrboBLU - Project Ricecar to Racecar
TrboBlu, named for the license plate that is on her, came to me as a hacked up hot mess. I swear there was not a single bolt or wiring harness spared in the rice-attack of the previous owner. The car was rot free, so figured she deserved another chance at life.

This tracks the ground up semi-restoration of this Kona Blue Pearl 1995 Eagle Talon TSi AWD.
The 2gb Talon Spoiler
---
For those who are curious about the 2gb Talon spoiler and what's involved to use this on; say.. a 2ga car.. here's a little "primer."

A few years ago, woke up one day and thought that a 2gb Talon conversion would be a super duper fantabulous idea. All went according to plan except for one piece: The spoiler.
Scene 1:
The tale of a Thousand Decklids.
Ok, maybe not a thousand..but a few. Snow White had a rusty decklid to begin with; so sourced a nice 2ga one to work with. Also bought a 2gb Talon spoiler a few days prior. The weekend comes along, so it's time to fill and drill holes for the new spoiler. Simple, right? WRONG.
Let's take a look-see as to why!
In exhibit A and B and C, we have an OE 2gb Talon spoiler.
Notice the really odd looking mounting point. This would prove to be problem. It is very hard to drill a square-ish shaped hole on an angle.
Yeah, needless to say.. that didn't work out very well. So time to look for another decklid.
The following weeks would involve various internet searches and phone calls. One phone call was to Showdown Motorosports (no longer) of Toledo. They told me that they had a 2gb Talon decklid and spoiler. I was thrilled, so went down there to pick it up the next day.
Come to find out that this decklid was pretty much trashed; but there was something odd about the spoiler itself. It wasn't like the 2gb one that wanted to be difficult. This one was different. Perhaps in a good way?
See Exhibits D E and F: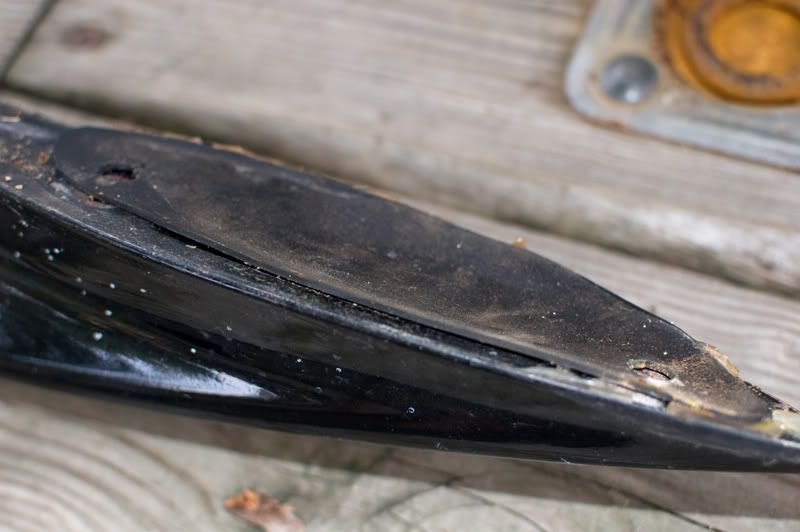 NOW THAT looks like something that can be worked with! The LED light also looks kinda cool.
Long story short.. bought that decklid, since they didn't want to seperate them. So had to find yet another decklid; since the very first one had a nice failed hole drilled in it.
About a week later; found a new victim. This one came form a 2ga Talon that was at a junk yard. Surprisingly, the decklid was rust free. Bonus! This would be the lid that got a faceift that included fiberglass/bondo and new holes drilled. Finally a fresh coat of paint and Voila! 2gb Talon spoiler!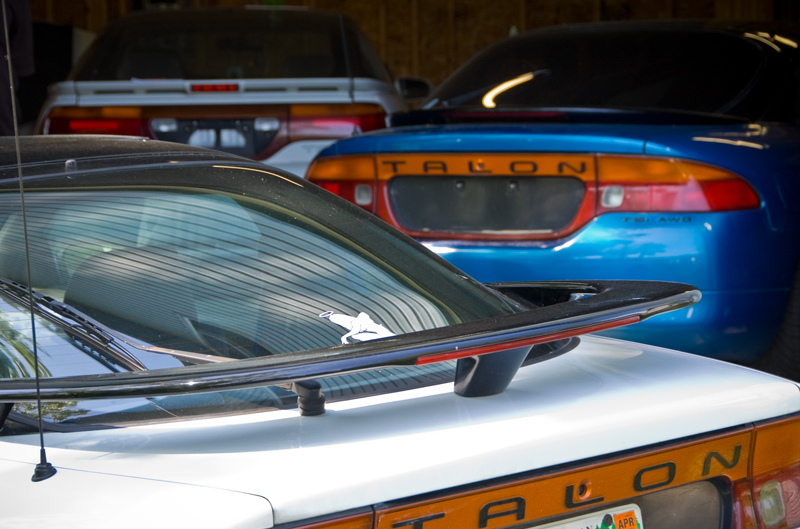 Scene 2:
Water, water, everywhere.
Well, like most projects that are a first attempt, this one was, indeed, flawed. The decklid leaked; and leaked pretty good. Bummer. So the search for an OEM 2gb Talon Decklid and Spoiler was once again ensued....
This time is would take a few years since finding one that was not all rotted out would prove to be quite the challenge.
A few days ago, saw a listing for a 98 Tsi that was being parted out. It just so happened to have a good hatch and spoiler, too! So I jumped on this and bought it.
Finally. The 2gb conversion is complete!
Postscript
Just thought I'd share these pics and story with everyone in case you wanted to add this spoiler to your car. It is just easier to find the decklid in this case. Of course if you are skilled with a drill and body work, then maybe you would have better luck that I did. Attached are some pics showing the OE mounting holes on the decklid for reference.
Also, the LED aftermarket spoiler is now for sale.

Comments
Posted 08-18-2011 at 05:32 AM by

TSiTuner23

Posted 08-18-2011 at 05:57 AM by

95talongirl