Blog Title: 1g Non-turbo -> Turbo swap
This is the journal of my 4G63t 6 bolt swap into my 1991 Mitsubishi Eclipse GS.

My car: My Eclipse was my first car, I was 16 years old when I got it. I bought it on January 2, 2003 for $250 with a free tow to my house. The timing belt had snapped at 114,000 miles and destroyed the head. Also the front bumper and passenger side fender were smashed in. Other then that it was in great shape. My dad and I rebuilt the engine from the head up. It took us 4 months but when we finally got it started that Easter it was an awesome feeling! This car has been my daily driver ever since, for the last 7 years.

My engine: The engine is out of a 1991 Plymouth Laser RS Turbo FWD car. I acquired the engine, transmission, ECU, and wire harness out of the car when it arrived at a junkyard, where I worked at the time. I pulled everything out in 1 day. I had the engine rebuilt to factory standards and attempted a swap back in 2005. However I ran into problems with the engine, with money, and with it being my daily driver and ended up pulling it out and putting my GS engine back in. My turbo motor has been sitting on a stand in my parents garage for the last 5 years.
April-July 2011 (Personal best ET, Autox, Road Course, Show, ELHS, Tial)
---
April-July 2011 (Personal best ET, Autox, Road Course, Show, ELHS, Tial)
In my last blog entry I added a FMIC, 850 injectors, V3 lite, and switched to speed density. I had a best ET of 14.3 @ 101 in San Antonio (before all those mods) and a best ET at my local track in El Paso of 14.7 @ 102 (after all those mods).
My last blog ended with this sentence: For the next blog expect to see some great progress on my SD tune and new personal best 1/4 mile time! Both happened!
April 2010
Trying ot track down a problem Iíve been having with my fuel system loosing pressure and having to crank for several seconds befor starting I replaced the diaphram in my Bushur/SX AFPR. Unfortunitly this failed to fix my issue. Here is a tech article that I wrote on the AFPR diaphragm install:
Replacing the Diaphragm in your AFPR
I had been dreading the month of April for some time because April is when my state inspection was due. Last April I got inspected before I did my turbo swap so everything was mostly stock and I passed without issue. This year there were lots of changes and I was curious as to how my car would do. I now have a full 3Ē exhaust with a test pipe so I decided to modify my old 2.5Ē Magnaflow High-flow cat to work with my new 3Ē system. I bought two 3" flanges, two 3" - 2.5" reducers, and found a friend with a welder. For the actual inspection I was failing the sniff test at idle at first until I made some changes to my base idle and managed to squeeze by! 'til next year...
Also in April I decided to buy my own welder. I had never welded before but its something that Iíve been wanting to learn and it seemed like as good a time as ever to just do it. I bought a very inexpensive 90amp mig welder from Harbor Freight and over the next several months practiced and was able to complete several projects. I just wish I would weld aluminum!
May 2010
I went to the track on May 6th and it was very disappointing. There was no track prep and I was spinning like crazy, even at partial throttle which is where I stayed until third gear. This was my first time with the injectors and v3 so I logged every pass. I kept getting knock when the boost hit (24 psi) in 3rd and 4th so I lowered the timing after each pass and even by the end of the night I was still getting knock in 4th gear. My best time of the night was 14.7 @ 104 MPH. I' was running 91 octane but after that night I decided to switch to E85. As luck would have it they had just built the only E85 station in El Paso about a minute from my house. It was meant to be.
Also I finally got around to swapping to the AWD axle and intermediate shaft on my FWD. Here is a tech article I wrote on the install:
Equal Length Half Shafts Mod (AWD axle in a FWD)
This mod is supposed to reduce torque steer and wheel hop while improving handling and traction, especially during cornering.
On May 13th I filled up with my first tank of E85 for $3.41 a gallon.
On May 19th I was driving down the road my car started idling over 2,000 RPMs and surging sporadically. I did a boost leak test right away and immediately found that my PCV line (which was brand new silicone) had ripped in half. I replaced it with a reinforced fuel line, problem solved.
May 20th I replaced my old (about 6-7 years old) worn front brake pads with a new set of Hawk HPS pads! After that I was poking around under the hood while it was idling and I found a fuel leak (not good). It was coming from the 6 -AN feed line where the stainless steal braided hose went into the fitting. I threw the stainless line in the trash and bought a 3/8" rubber fuel line from Auto Zone and used that with the AN fittings. It worked like a charm! I'll never use stainless braided lines again.
I got some closed loop data and made some changes to my timing and VE table and tonight I lowered my boost and did a WOT pull. I got my boost down to 20 psi, adjusted my AFR to 12.0 at WOT, and increased my timing table (a lot!!!) to work with the E85 and in preparation for the drag strip on the 22nd.
By the end of May the price of E85 had dropped from $3.41 to $3.11 (91 octane was $3.87 from the same station, $.76 more per gallon!).
I went to the track May 22 nd and I ran a new personal best of 14.1 @113 which is .2 and 12 MPH faster then my previous best pass. Once again there was no track prep and it's killing me. I'm on E85 now though which is as awesome as they say. Now if I can go on a day with some track prep so I can get my ET down some more I'll be good to go. Here is my timeslip info:
Pass - 60' - 1/8 ET - MPH - 1/4 ET - MPH - Time - Notes (changes listed were made prior to pass)
1 - ????? - 9.507 - 90.10 - 14.155 - 113.52 - 6:34 - No slip 1st pass, this was 2nd, HL, CEL cooltemp 229*
2 - 2.551 - 9.666 - 89.57 - 14.330 - 113.06 - 6.51 - I raised the VE table a little before this one.
3 - 2.468 - 9.596 - 89.78 - 14.256 - 112.95 - 6:56 - HL
4 - 2.516 - 9.721 - 89.14 - 14.362 - 113.12 - 7:34 -
5 - 2.621 - 9.940 - 89.49 - 14.573 - 113.63 - 7:40 - CEL 3.9* of knock, spinning 1st & too much timing, HL
6 - 2.580 - 9.688 - 89.32 - 14.350 - 113.35 - 8:34 -
All of these passes were on E85, 20 psi of boost (still 14b with 6cm hotside), 24 psi tire pressure, burnout on passes 3-5, timing was 12-19* advanced, HL = hot lap
On May 29th we had a local DSM cookout. We had about 8 DSM show up.
June 2011
In June the weather in El Paso was getting super hot and so were my coolant temps. I was hitting over 230* at the drag strip, on the highway, and at low speed/idle conditions. To resolve that I built a
radiator ducting
, replaced the thermostat, cap, went to 75% water 25% coolant with a bottle of water wetter, swapped from a PR/CX slim fan back to the main stock fan, and bled the system really, really well. After doing all of that my highway temps have been averaging about 180*-190* and coasting down a mountain I hit 174*. My idle temps have been around 206* which is when my fans turn on. I tried to get an adjustable fan controller to work properly so I can lower that a few more degrees but I had problems with a faulty product and poor customer service from the manufacturer so I returned it an am leaving the fans setup to the factory thermo switch.
In June I had several racing events and I wanted a lager fire extinguisher just in case. I bought a 2.5 lb fire extinguisher and mounted it just behind the passenger seat for easy access.
On June 11th I was in my first car show. I took 2nd place in my class (1986 and newer) out of 2. So yeah, last.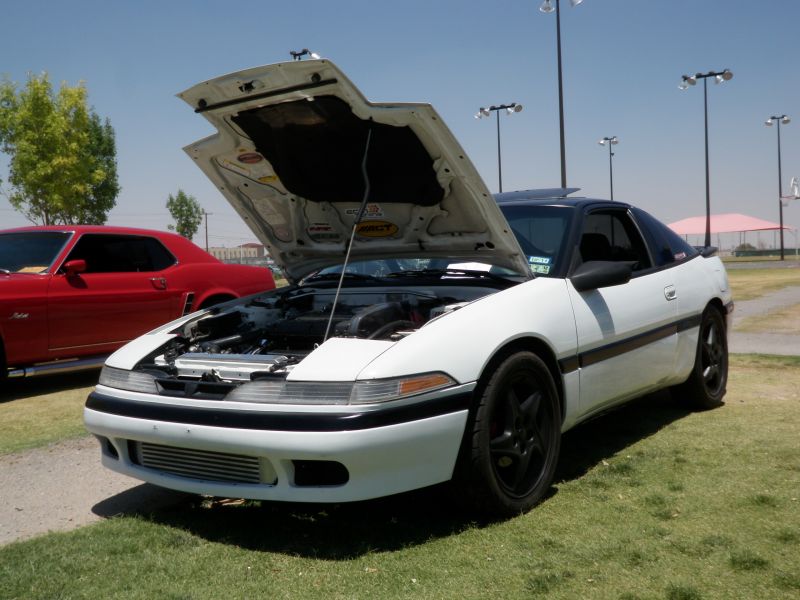 On June 12th I competed in my first SCCA Autocross event. I took 4th in my class (rookie driver) out of 4. So yeah, last again.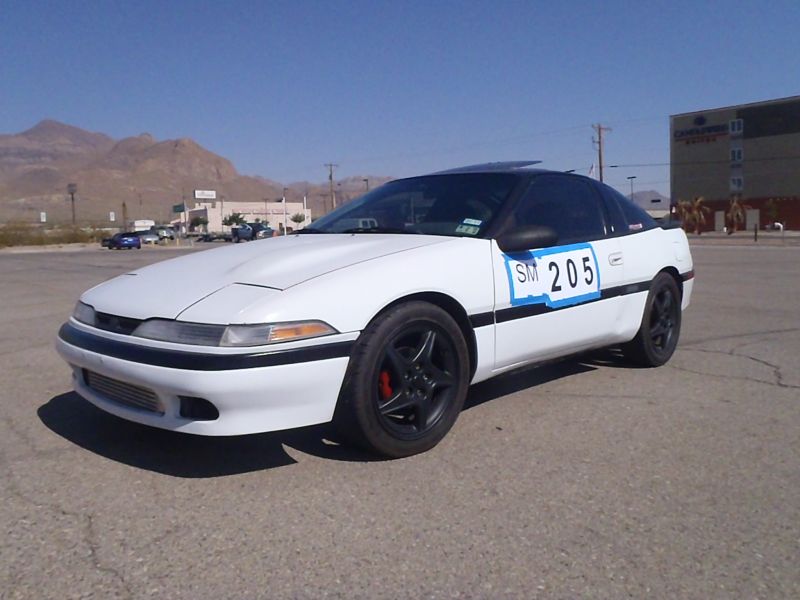 Before my first road course day I replaced my very old and worn rear rotors with a set of PowerStop Evolution pads. My rear brakes have made a terrible noise when backing up ever since Iíve had it (which is a really long time). Upon removing my rear passenger side pads I found that one of the pads had very improper wear due to the lock pin being way over torqued. Since replacing the pads, greasing, and properly torquing everything, I have had no more brake noise.
On June 23rd, I did my first road course and I came in 2nd out of 3, I broke the trend!!! It was a coworker in a 600 hp supercharged Mustang Cobra, my 1g FWD, and a local buddy in a 1g AWD talon with a 20g. We rented Arroyo Seco Raceway for 4 hours and had a blast!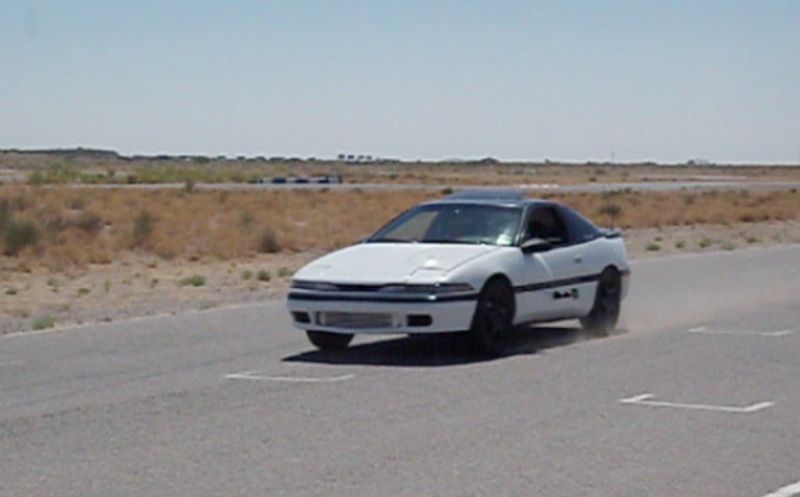 July 2011
The July SCCA SOLO event was cancelled and I didnít see much point going to the drag strip without better traction so I decided to take on a new little project, my trunk. I removed all of the sound deadening material from the trunk and the rear seat area. It actually came out pretty easy. I used a hammer and a paint scrapper to get all the big stuff off and then some adhesive/decal remover to get the rest of it. In the end I removed about 7 lbs of sound deadener tar. After that was done I found several factory trunk brackets that I had no use for and I removed them as well. However in the process of removing the brackets I ended up with a few holes in my trunk. Here is where my welded (which I had been practicing with) came in handy. I welded all the holes up and then grinded everything smooth again. Once I was happy with the floor I cleaned and prepped it and sprayed it with a beautiful gloss white. Also my trunk and back seat area trim had some sun damage form the last 20 years so I cleaned those up and painted them back to charcoal grey. It turned out fantastic once I got everything painted and back together. Here are some pictures.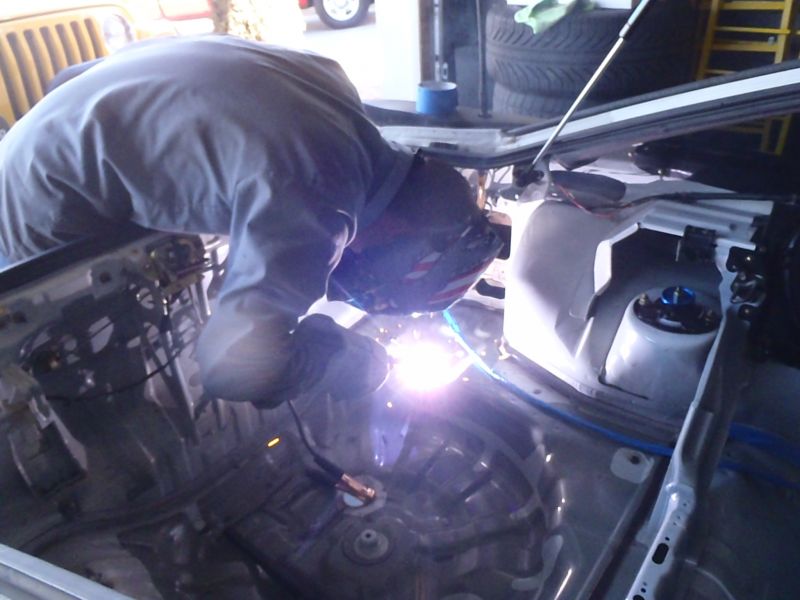 I bought a Tial 50mm BOV back in May and I just got around to having the flange welded to my UICP and getting it installed. It sounds way different then my crushed 1g BOV. It sounds more like a bark then a woosh to me. It's going to take a little while to get used to. Here is a picture of how my engine bay sits as the end of July, 2011.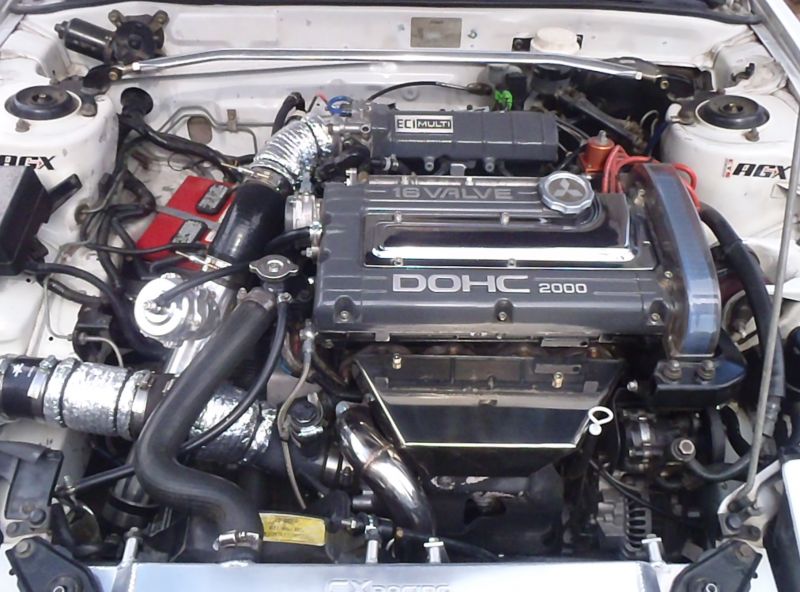 In my next blog look for a Quaife LSD to assist with my FWD traction problems and a 13 second time slip!
Comments
Posted 07-23-2011 at 08:24 AM by

snowborder714

Posted 07-23-2011 at 02:54 PM by

sek_phok

Posted 07-23-2011 at 04:21 PM by

9!'clipseDOHC