Blog Title: 1g Non-turbo -> Turbo swap
This is the journal of my 4G63t 6 bolt swap into my 1991 Mitsubishi Eclipse GS.

My car: My Eclipse was my first car, I was 16 years old when I got it. I bought it on January 2, 2003 for $250 with a free tow to my house. The timing belt had snapped at 114,000 miles and destroyed the head. Also the front bumper and passenger side fender were smashed in. Other then that it was in great shape. My dad and I rebuilt the engine from the head up. It took us 4 months but when we finally got it started that Easter it was an awesome feeling! This car has been my daily driver ever since, for the last 7 years.

My engine: The engine is out of a 1991 Plymouth Laser RS Turbo FWD car. I acquired the engine, transmission, ECU, and wire harness out of the car when it arrived at a junkyard, where I worked at the time. I pulled everything out in 1 day. I had the engine rebuilt to factory standards and attempted a swap back in 2005. However I ran into problems with the engine, with money, and with it being my daily driver and ended up pulling it out and putting my GS engine back in. My turbo motor has been sitting on a stand in my parents garage for the last 5 years.
November 2010 - March 2011 (FMIC, Tires, Track, V3, 850's, SD, CAI, & Meet)
---
Where to begin! My last blog was my end of the year video, but I made it in October thinking that I was done for the year. Well it turns out that I couldn't even make it 2 months without doing more! As of the last blog, this is where I stood:
Stock turbo, stock fuel injectors, stock intercooler, stock ECU, full interior, street tires, FWD, 14 pounds of boost.
Coming soon: Punishment Racing FMIC, DSMlink V3lite, Fuel Injector Clinic 850 cc fuel injectors, Buschur Racing TD05/6 hybrid 20g, Tial external wastegate.
November 2010
Well at the end of 2010 VR Speed Factory went and had a sale on the FMIC kit that I just couldn't pass up. I jumped on it and tossed my SMIC to a corner in the garage. Here is a tech article on my install:
1g VRSF FMIC Install
After installing the FMIC I started getting a lot of boost creep so I found a used Megan Racing stainless recirculated o2 housing and that took care of my issues for the time being.
December 2010
I had been considering new tires for a while as I already have traction issues by virtue of FWD. The problem that I was running into was my 17 x 6.5 rims. The widest tire I would be able to use would be a 225 (up from the 215's I had). I would have (and still would) loved to get a set of EVO 8 Enkeis which are 17 x 8 and then a 235 or even 245 wide tire. However my priory was to keep spending money under the hood so I just got two 225/45ZR17 BFGoodrich G-Force T/A KDW 2's for the front. (I absolutely love the tread design on these tires!)
January 2011
After the tires I took a short break from the car to get married and honeymoon in Hawaii! But I came back strong. I identified and fixed several more boost leaks including the compressor cover o-ring, BOV, my upper intercooler pipe, and a few vacuum lines and couplers.
February 2011
I was promoted to DSMtuenrs Wiseman Status!
About this time a local DSM buddy of mine lost his car due to a
catastrophic clutch/flywheel failure
. This scared me so I ordered and installed a Three Speed Scatter Shield. For more info check out this thread:
Scatter Shield Install.html
In February I made it out to the local drag strip. I hit a new best MPH (102 MPH) but my et suffered (14.7) due to crappy 60' times (best of 2.4). My boost gauge claimed 14 psi but I have since found (based on my MAP sensor reading) that it reads about 3 psi high so it was really more like 11 psi. However it was a lot of fun and I was joined by two other white 1gs and got to beat up on a Mustang GT!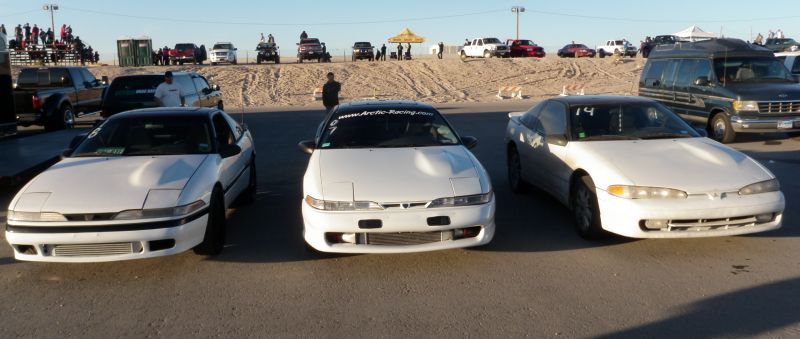 Next came the biggest performance improvement to my car since the turbo engine swap... ECMlink v3 Lite and Fuel Injector Clinic 850cc fuel injectors!!!
At first I was having some problems with my check engine lights and crazy sensor reading, you can read more here:
Error Code 0042
. I sent the ECU back to get it checked out again and everything checked out fine so they shipped it back along with their speed density bundle.

March 2011
While I waited to get my ECU back from ECMtuning I also made a custom enclosed cold air intake to compliment my SD setup. I had been wanting to do this for a while but couldn't with my 1g MAF. For more info check out this thread:
Is Flow the Same for an Air Filter as for an Intercooler.html
Back to my electrical issue.. With the ECU in tip top shape, that left my harness or the connection from the harness to the ECU. I pulled my harness and went through it for several days and couldn't find anything wrong. I did however remove my o2 sensor wiring (decided to run my wideband with narrowband simulation) and my cruise control plug and associated wiring all the way back to the ECU. And I installed my IAT and MAP sensors
It turned out that my problem was the wire ends that connect to the actual ECU pins were loose. I tightened them up using a needle per the FSM and everything started working fine again and just in time to make it to the
2011 El Paso March of the DSMs
, (actually I got it fixed the morning of the event)!
The 2011 El Paso March of the DSM's was a great success! We had over 20 DSM's and a few EVOs, a sweet 3000GT, and even a few Hondas eyeballing from a distance

Over the past month I've been slowing but surely working on getting all of my logged parameters in line and working on my WOT tuning, LOTS and LOTS of thanks to Corey (Gofer). It's been one of those "one step forwards, two steps back" kinda things but I think we are finally getting everything straightened out and will be able to make some forward progress soon.
Today I actually drained and lowered the gas tank and replaced the Walbro fuel pump "sock". It's been over 5 years since I installed my pump and I want to make sure I'm getting plenty of fuel to feed my speed. (I've reached my picture limit so pics will be below in the comments section) I also ordered a replacement diaphragm for my Buschur/SX AFPR. For the next blog expect to see some great progress on my SD tune and new personal best 1/4 mile time!
Comments