Blog Title: 1g Non-turbo -> Turbo swap
This is the journal of my 4G63t 6 bolt swap into my 1991 Mitsubishi Eclipse GS.

My car: My Eclipse was my first car, I was 16 years old when I got it. I bought it on January 2, 2003 for $250 with a free tow to my house. The timing belt had snapped at 114,000 miles and destroyed the head. Also the front bumper and passenger side fender were smashed in. Other then that it was in great shape. My dad and I rebuilt the engine from the head up. It took us 4 months but when we finally got it started that Easter it was an awesome feeling! This car has been my daily driver ever since, for the last 7 years.

My engine: The engine is out of a 1991 Plymouth Laser RS Turbo FWD car. I acquired the engine, transmission, ECU, and wire harness out of the car when it arrived at a junkyard, where I worked at the time. I pulled everything out in 1 day. I had the engine rebuilt to factory standards and attempted a swap back in 2005. However I ran into problems with the engine, with money, and with it being my daily driver and ended up pulling it out and putting my GS engine back in. My turbo motor has been sitting on a stand in my parents garage for the last 5 years.
The Swap, Part 3: It's alive!
---
It's alive!
Day 1:
At the end of my
last blog
, the engine was completely assembled on the stand. I got it off the stand, attached the Fidanza Flywheel, the ACT 2100 clutch, and the transmission.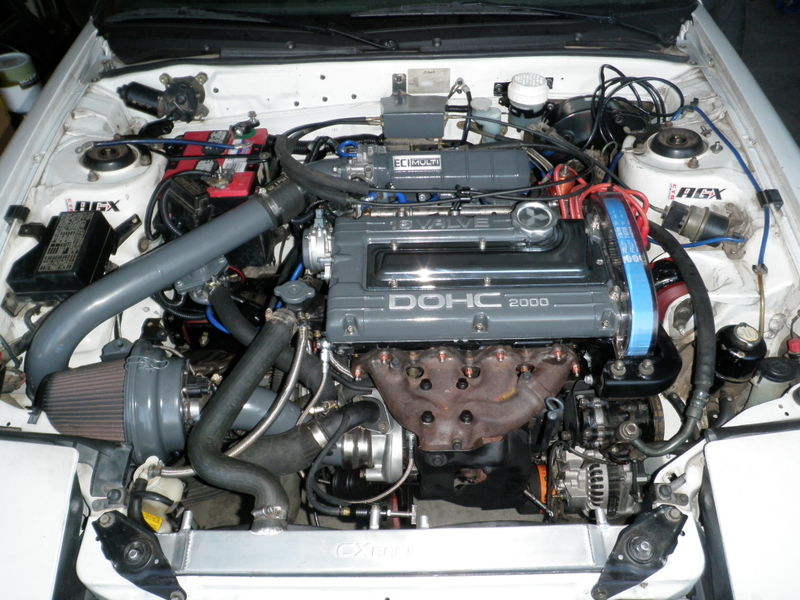 I stopped taking pictures at this point but the engine went in without much difficulty. I sent the rest day hooking everything back up. Everything went surprisingly smooth. Once everything was reconnected I added the fluids and called it a day. I wanted to check everything again the next day once I was fresh again before starting it.
Day 2:
I installed the 3" downpipe, AEM wideband, and a few misc things. Time for the moment of truth.
Startup, take 1. It started up in the first crank. It ideled high at first, then started reving from about 600 rpms to 2,000 rpms. AFR was off the chart lean, switching from 17.9 to ---. CEL was on. Oil pressure good. I let it run for a while and then while I was checking things out under the hood I noticed the fuel was pouring out from the fuel inlet on the fuel rail. I shut it off right away.
Turns out it was a torn o-ring. Also the vent line on the intake pipe was open so I routed it into the catch can. This would explain the erratic idle.
Startup, take 2. Once again, started up on the first try. Idled high again, searching from 1500 - 2000. AFR was ---, off the chart lean. CEL on. Bad air leak at the throttle body. Shut it off to fix.
The throttle body gasket was upside down. Once again, a quick fix.
Startup, take 3. Idle 2000 rpms, no longer searching. AFR was high 16s-17s. Oil pressure was around 60-70 psi. Fule pressure 40 psi with the line attached. Vacuum was about 12. CEL was still on. Lots of chatter from the engine had me concerned so I shut it off again.
That evening I bleed the clutch but I didn't mess with the engine anymore.
Day 3:
I did a compression check, the results from cylinders 1-4 were: 150, 150, 150, 145. I started it up again and the chatter was gone. I let it warm up and then setting everything. I got the idle set to 750. I got the fuel pressure set to 37 with the hose off, 30 with it on. Checked the timing but it was already dead on at 5 BTDC. With everything set and it warm the oil pressure was around 30 psi at idle. AFR was still 18 to --- lean at idle.
With everything looking and sounding great I decided to slow roll it around the neighborhood a few times. I was only running a downpipe and non hood so I didn't want to take it out on the roads. Everything went super! I kept it around 2,000 rpms at most, only got 3 lbs of boost but it was running! Everything seemed to perfect. After a few loops around the block I smelled something burning so I returned to my house. I inspected everything but was unable to find the source. Everything smelled fine the engine bay.
My 3" Punishment Racing cat-back system and 3" test pipe were ordered a few days ago and as soon as I get them on I will proceed with the break in process. Until then I will wait but I am super happy with the progress so far.
Comments