Blog Title: 91 FWD Laser - the Black Widow
Picked this 91 Laser up from a friend. Ran like crap, has 220k miles, but the body is super straight and I got it for $500!!! I'll post up some pics of the car and some findings I've already found a little later on. The car is getting torn down and will have a built engine with added compression and will run on the 14b to see what I can do with it. It will probably be a full winter project before the car is up and running...if not a little longer. Check back for updates!
Do Not Post a Question Here - Read the Red Bolded Text Above!
Posted 10-11-2011 at 02:37 PM by
1SloEvo
---
For those interested, I'll be building this car for street/strip duty. Hoping to eventually make it capable of chasing the 14b/16g records (no nitrous). I know it's got a long way to go, but that's my ultimate goal. So I got a little time this past weekend to work on my Laser. For those just seeing this, just want to point out that I got this car for $500. 220k miles, ran like crap, but is very straight. I didn't get any interior/exterior pics, but got some engine bay and head pics.
First is a quick pic of the head. The 14b has been off before, as well as the head I believe. I'll explain why I believe so on both. The oil supply line for the turbo only had 1 crush washer on the head and only 1 on the turbo...therefore both leaked like crazy. This got the head and turbo both very dirty. The reason I know the head has been off is because there was a missing injector clip when I pulled them off. I happened to find it sandwiched between the head and block, meshed into the head gasket.
Here is a quick pic of why the car ran like crap: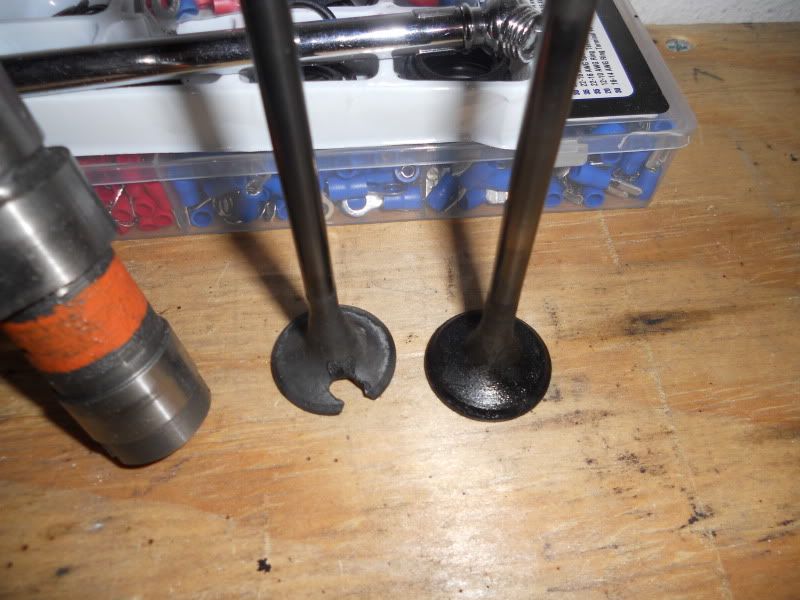 When I did the compression test, 2, 3 and 4 were all at or above 135psi. Number 1 had 0, for obvious reasons. That's an exhaust valve with a pretty decent hole in it. I worried about the head and cylinder wall be damaged. The head has a very small knick, but nothing that won't come out when bowl blending occurs. The cylinder wall has a small knick that's only visible...you can't actually catch anything on it. Not worried on that either...going .020" overbore should do the trick!
At any rate, here are a few pics of the head cleaned up a little and disassembled along with pics of the engine bay. All A/C stuff in the engine bay is gone. I drained the p/s last night and hope to remove it today or tomorrow.
Pics: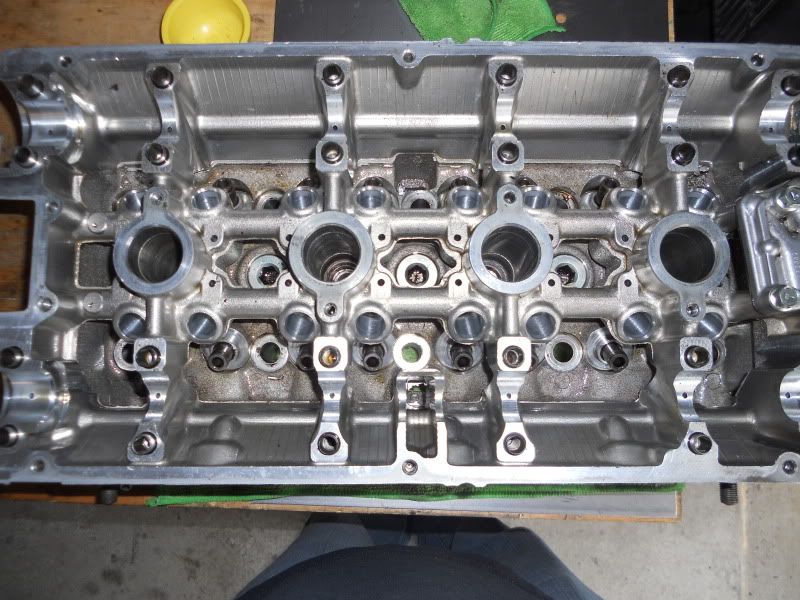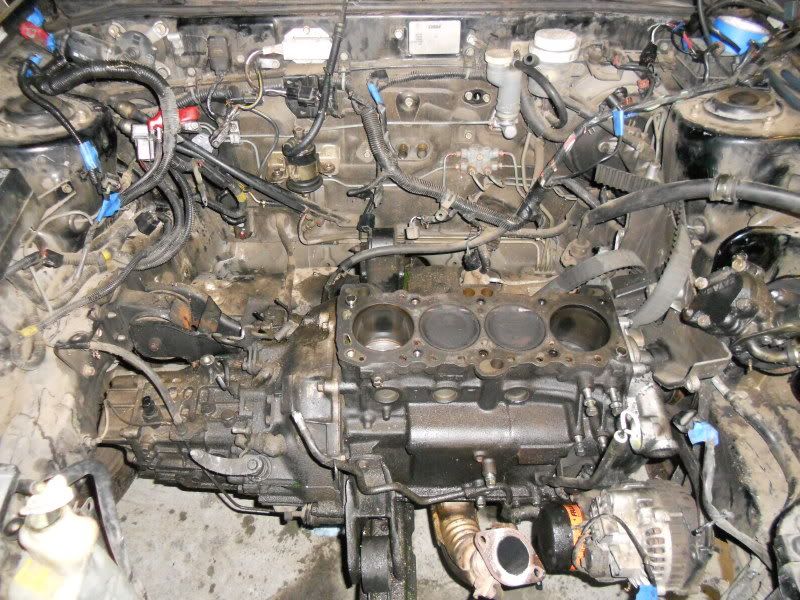 For anyone interested in what I have planned for the motor build, here is a quick rundown:
Wiseco or JE custom compression pistons (.020" over)
Scat rods
polished crank
Fully ported/polished head (kiggly beehives, supertech oversized valves)
JMF race intake manifold
cams to suit the turbo
ported n/t t/b
supporting mods for a steady diet of E85
built FWD trans
tons of weight reduction/lightweight parts!
I'm planning to take my time building this over the winter and early spring. Hope to have it up and running around my birthday time in April! We'll see how the funds and build play out!
Comments