Here's a guide to help you make your 95-99 Eagle Talon or Mitsubishi Eclipse perform in Time Trials, Wheel to Wheel racing, and/or open track events. Make sure you put a plan together for the class you're planning to compete in and read all of the rules before you start modding your car. There may be mods listed below that will bump you out of the class you originally wanted to compete in. For information about obtaining sponsorship for your racing habit, Click Here.

---
Suspension
Competition Tires/ Wider Wheels
If you're driving your car to the track you'll want a second set of track wheels and tires so you can go with R-compounds. Those who want the wheels to tuck in the stock fender will be limited mostly to 8" wheels and 225-235mm width tires. The determining factor on wheel/tire width will end up being the offset (backspacing) of the wheel. But if you're okay with rolling your fenders and/or going with fender flares you can go as wide as 17x9" or 17x9.5" wheels with a 27-30mm offset and some 235-275mm tires. We have found some 17x9" Team Dynamics Race wheels that fit our cars perfectly. The Toyo RA1's are a very popular tire choice with DSMers these days for their good performance and durability. But other good choices would be the Kumho V700 and/or VictoRacer V700, the BFGoodrich g-Force R1, and of course the Hoosier R6 - all of which can be found at Tirerack.

Something to keep in mind: most big brake kits require 17" wheels and a certain amount of spoke clearance to accept the width of the caliper. Make sure you take this into account when shopping for wheels. The best order of operationg would be to choose the brake kit you want and get the measurements needed for the wheels. Then find wheels that will fit. A few wheels that are lightweight and not outrageously expensive would be the Enkei RPF1, the Kosei K1, and the Kosei K1 TS. The more expensive choices would include the Gram Lights 57C and the SSR Type C, etc. You can find all of these wheels at Tirerack:



Swaybars and Strut Braces
A larger swaybar in the rear will help reduce roll and understeer. On AWD cars the stock front swaybar is sufficient. On a FWD car you can upgrade both depending on your needs. Strut bars will help reduce body flex by bracing the shock towers and will tighten up the car's chassis. If you plan on installing a roll bar or roll cage, the rear strut bar might be pointless depending on how the cage is tied into the chassis. The 2G also has lower braces available to help further strengthen the chassis and reduce flexing.

(Shop for Swaybars)
(Shop for Strut bars)


Coil-over suspension
Once the standard struts and lowering springs are no longer cutting it you'll want to step up to a coilover setup. There are two choices - spring and perch kits or true full coilovers. The latter will afford you additional adjustment options to help fine-tune the suspension at the track. You'll also want some stiffer spring rates depending on the weight of your car. If you can get your car corner weighted you'll be able to accurately determine the spring rate you'd need at each corner. If you absolutely cannot afford coilovers you can get by with some good adjustable shocks (we highly recommend Koni) and some lowering springs like Eibach Prokits. Just don't go with any springs that lower the car more than 1.5". You probably won't be competitive nationally but at least you'll have some fun on the track.




Camber Adjustment
If your coilovers don't come with camber plates you should look into some. Once you start getting serious about tracking your car you'll find that you need to adjust camber in certain situations at certain tracks. Camber plates make it easier to make instant adjustments. Most road racers will start out with about -1 or -1.5 degrees of camber at the track, front and back and adjust the car's balance from there.


Polyurethane/solid bushings
Replace all those flexible rubber bushings throughout the suspension with poly replacements. Most bushings can be found in kits. If you're going full track you might consider going with poly motor mounts and maybe even body bushings. It will vibrate more but everything will be solid. If you're going to compete you might even look into full solid bushings throughout.


Big Brake upgrade
If you're suffering from brake fade and aggressive pads aren't doing the job it might be time to consider a big brake kit. Most kits will eliminate fade, reduce stopping distances, and give you a great deal more confidence at high track speeds. Most big brake kits require 17" wheels and a certain wheel offset to clear the width of the caliper. Make sure you take this into account when shopping for wheels. Most big brake kits will come with steel braided lines and good pads, but if they don't make sure you pick some up. And don't forget the high-temp brake fluid as well. We recommend going with a 13x1.10" or 13x1.25" vented and slotted rotor. Stay away from cross drilled rotors for track use.

The most reliable name in the Braking world for DSMers has been TCE Performance Products. They're the only company that has consistently made big brake kits available for our cars with several custom options. We highly recommend them for any Big Brake kit. You'll get a kit that performs as well as any kit on the market at a better price. They use Wilwood calipers exclusively and will work with you to get you the best kit for your needs.




Roll Cage
A roll cage is a safety feature but it also stiffens the chassis and reduces flex in the suspension. Most DSMers will only be hitting the track for open track events and lapping days and won't have much of a need for a full cage. But if you're going to compete in Time Trials you'll want to at least consider a 4-6 point roll bar. Most racing series will require a full cage for Wheel to Wheel racing anyway.
Powertrain Upgrades
Intake
The 2G MAF should be fine for most DSM road racers. The route you go will determine the type of intake pipe you'll need, as cold-air intake will require some custom routing. Of course, if you decide to go with a standalone EMS like an AEM EMS you won't need to worry about the MAF at all. The most trusted vendor in the DSM market for intake pipes is Dejon Powerhouse. You can find just about any intake pipe configuration/color choice you could possibly need on their website at reasonable prices.




Ignition
When running high boost at the track you'll need to run some good spark plugs and wires at the very least. The NGK BPR7ES plugs are quite popular, along with Magnecore wires. If you have money to burn the elegant solution these days is to swap out the coilpack and wires for a Coil-On-Plug system.


Cooling
Running a turbo car at the track will create havoc on your cooling system. There is so much heat under the hood that you'll be fighting hard to keep water temps at a reasonable level - you really don't want them getting above 230 degrees for long periods of time. The first is to put a vent on your hood to allow hot air to escape. You don't want to just cut a hole in your hood either, as that won't really allow air to escape unless the car is stopped or moving slowly. You want to get an actual vent and rivet it to the hood. We suggest the Carbontrix vent. The next thing you'll want to do is get a thicker-than-stock aluminum radiator. The only company that makes a thick radiator for our cars is PWR, but you'll have to contact them and ask for it specifically, not the one they normally sell. Aside from that you can try out the popular techniques like Water Wetter and other cooling fluids. If you haven't done so already, ditch the A/C condensor - you'll be fighting a losing battle if you don't. Be sure to pick up an aftermarket water temp gauge too.

Oil cooling may also become an issue. The 2G owners can change from an internal oil cooling system to an external cooler. You can find some good Setrab oil coolers on eBay for a decent price. Then just pick up some -8 or -10 braided line, AN fittings, metric adapters for the oil filter housing, and an Evolution VIII oil filter housing. You'll need a good oil temp gauge too.


Engine Management
If you're going to be road racing you'll need to ditch the S-AFC and step up to something more reliable and accurate for engine management. If you have a lot of cash to throw around one of the best tuning solutions would be a standalone EMS system like AEM. But you'll need a good AEM-certified tuner to get your car tuned properly. The next best solution is DSMlink from ECM Tuning. To be able to use DSMlink your car will need to have an eprom ECU swapped in if it doesn't have one already. We highly recommend DSMlink for most DSMers who plan on road racing on a budget.

Along with your EMS solution you'll want some gauges to help monitor the engine. An EGT (exhaust gas temperature) gauge and probe will allow you to monitor the exhaust temperature exiting the engine. Extremely high temps generally translate into a lean condition and can be catastrophic. You can also go with a Wideband O2 system that will allow you to monitor the air/fuel ration of your car while driving. This will tell you exactly how rich or how lean the car is running, allowing you to adjust the fuel curve accordingly. And don't forget the Water Temp, Oil Temp, Oil Pressure, and Fuel Pressure gauges.




Boost Control
Chances are you probably already have a boost controller. If you're going to be competing be sure to read your series rules about boost control and what they allow.

(Shop for Boost Controllers)


Exhaust System
To make any type of decent power you'll want to address the entire exhaust system. Everything from the exhaust manifold, O2 sensor housing, downpipe, catalytic convertor, and cat-back exhaust? will need to be changed out for better flowing pieces. The exhaust manifold and O2 sensor housing will likely depend on the type of turbo you plan to use. You can port a Mitsubishi exhaust manifold and O2 sensor housing or go with aftermarket pieces. A 2.5" or 3" downpipe will do, and a 3" catback exhaust is recommended. Ditch the cat and run a straight pipe at the track.




Fuel Delivery
The stock fuel pump will not be able to supply the needed fuel for anything over 16psi of boost. You'll want at least a 190Lph fuel pump to ensure you have enough fuel in case you want to raise the boost. It's also a good idea to re-wire the fuel pump for consistent fuel pressure. If you go with a 255lph pump, you'll need an adjustable fuel pressure regulator. Larger injectors will also be necessary if you're upgrading to a 16G turbo or larger. Many also change out the fuel rail to something larger and replace the stock feed line from the tank to the rail with larger stainless steel braided -6 or -8 line with AN fittings.




Turbo
The turbo choice for road racing isn't going to be anything huge. Most road racers will use either a 16G variant, a 50-trim variant, or something in between. If you're really looking for top speed you might step up to a GT30 but you might be giving up a little bit of spool time. The best option if you go with a 50-trim or larger would be to go dual ball bearing to keep your spool times lower, as this will help you get back into boost faster coming out of a turn.

(Shop for Turbos)


Intercooler
The side mount intercooler will not be able to cool the amount of air flow needed to keep up with the demands road racing, especially if you're using a larger-than stock turbo. You'll need a Front Mount Intercooler, or FMIC. This install is pretty involved, especially if you choose a kit that routes the piping around the sides of the radiator. Most kits require some trimming of the steel bumper and some dremeling of the plastic bumper cover. Most "street" kits will do okay but you might want to consider a "race" kit which will have a larger core for better cooling characteristics. If you haven't done so already you'll want to rip out the A/C if you're serious about tracking the car. If you don't you'll be fighting a losing battle with cooling issues once the FMIC goes in.

The best place to get a good price on all of your Intercooler needs is Extreme Turbo Systems. They have great prices, excellent service and have kits for any budget.





Intake Manifold
The stock intake manifold is great for street use and autocrossing but in road racing it might become a restriction, especially on tracks with long straights. The power curve levels off at about 6400 RPM and if you you have (or are planning to install) cams then you should also plan on changing out your stock intake manifold with one that can support power in the upper RPM range. All of the aftermarket intake manifolds available will have shorter runners and larger plenums, which is what helps increase the power in the higher RPM range but also hurts power in the lower RPM range. This is why it's not an ideal modification for autocross. It's also a modification that you'll want to do after you've done everything else we've discussed above. You won't see much gain in power if you do it in the beginning. The most popular and proven intake manifold on the market is built by Magnus Motorsports.




Cams
To increase power even further on the top end many will suggest going with some race cams. Now this is a modification that will work great with bigger turbos and aftermarket intake manifolds, but won't yield huge results on smaller turbos. The great thing is you can go with a combination of street and race cams to optimize your setup. This is another modification that will increase top end at the expense of low end power and torque, and the more aggressive you go the more it becomes noticeable.




Engine Rebuilds
Road racing puts a lot of stress on the engine. A basic rebuild would be sufficient but many would recommend spending the extra money on forged internals. Most 2G owners will likely take this opportunity to swap in a 1G 6-bolt block since they have a better reputation against crankwalk. Take this time to refresh the cylinder head and get some more aggressive cams and at least a little bit of porting done to the head. There are several possibilities when building a race block - you can stick with 2.0L or stroke it out to 2.3L or even 2.4L. The strokers obviously enjoy a bit more torque in the lower RPM range but some people love the high revving 2.0L version. It really comes down to personal preference. We highly recommend Magnus Motorsports for both basic rebuilds and full race rebuilds.

Drivetrain Upgrades
Clutch
With the abuse of road racing a stock clutch won't hold up long. It's time to step up to a performance clutch. The most popular clutch for the DSM is the ACT 2600 but there are others that have been gaining popularity and will do the job just as well. Many road racers will like the 6-puck disks due to their crisp engagement and longer life but a street disk will do just fine.




Flywheel
If you're going to pull the transmission to put in a new clutch you should also consider a lightweight flywheel to save more rotating weight and install it at the same time. You have the choice of an aluminum flywheel or chromoly. The aluminum version will give you the ability to swap out the worn friction disk at the next clutch swap instead of changing out the entire flywheel assembly every time.


Limited Slip Differential
The FWD guys will need to seriously consider a Limited Slip Differential (or LSD) to keep the tires from spinning too much. It's probably not a critical upgrade until you start seriously competing.


Stronger Axles
Though the stock axles will be more than adequate for most all road racers, those making really big power might end up braking an axle here and there. Lucky for them there are stronger axles available for our cars, both for the front and the rear. Some will hold up to 900hp. This is obviously an upgrade for the serious competitors in Time Trials and Time Attack.


Lightweight Driveshaft
If you've got money to burn you can pick up an aluminum driveshaft for these cars to help further cut down on rotating weight and hold more power. These driveshafts will save you a good 10 lbs. of rotating weight and will replace the first two shafts in the system with a single piece. They're stronger and lighter.


Automatic Transmission Upgrades
Though you won't find as many turbocharged automatic transmission DSMs around as 5-speeds, there are modifications available to help improve shifting and launching, help handle increased horsepower, and just make driving on the track more enjoyable.


Transmission Rebuilds
If your transmission has a lot of miles on it you may also consider a rebuild. Check our Vendors page for some shops that will do a great job.

(Shop for Drivetrain Upgrades)
Weight Reduction
Gutting the Car
This is the funnest part! Go ahead and tear out as much as you can live with. If you're going to drive the car daily you'll obviously be pulling out less than those who will be tracking the car the majority of the time. Start with the carpet padding, the rear seats, the spare tire of course, interior panels, the stereo compenents, the sound deadening material (dry ice is known to work really well), the ABS, the A/C system, the heater core under the dash, the air ducting, the center console, miscellaneous brackets that are no longer in use, wiring that is no longer used (be very careful here), and anything else you don't need anymore.


Carbon Fiber Hood, Hatch, Doors, and fenders
We all know carbon fiber is used more for cosmetic reasons these days than for being light weight. But you can't deny the amount of weight you can shed going with a carbon fiber hood, hatch, fenders and doors. Most on the market will utilize the factory latches too. Carbon fiber doors are big weight savers, but since some of the doors available don't have crash protection you wouldn't want to use them without a full roll cage. Fiberglass is slightly cheaper but it's not quite as light as carbon fiber and is harder to find.

The most consistent place to find a wide selection of 2g DSM carbon fiber hoods, hatches, fenders, or set of doors tends to be eBay.


Lexan and Speedglass
If you're going to put a carbon fiber hatch on the car you might as well look into Lexan or Speedglass. The Speedglass option is more expensive but it's a lot more scratch resistant and it's molded like the factory glass to look more stock. This can get pretty expensive when you consider changing out all, or most of your glass but it can also save you the most weight above the door handles, which will help drop the center of gravity on the car. Again, eBay is a good source for Lexan and Speedglass, but it tends to be a DIY affair as opposed to a direct fit.
Safety
Racing Seats/Harnesses
For more safety and driving control, look into some good supportive racing seats and harnesses to keep you firmly planted in the proper driving position. You'll find a variety of manufacturers for the racing seats, including Sparco, Corbeau, Recaro, etc. Sparco Racing seats tend to be quite popular among DSMers for some reason.

(Shop for Racing Seats)


Roll Cage
I know we mentioned roll cages already but we wanted to emphasize it once again. Road racing can be dangerous due to the higher speeds. Protect yourself. Chances are you can get a local shop to build a custom 4-6 point roll bar that will meet SCCA and/or NASA specs for about $800-1200. If you don't have a local shop in the area you can also find bolt-in roll bars that would also work.


Helmet and Gloves
If you're doing any road course or autocross racing a helmet is always required. For open track days a helmet with a SA1990 rating will usually be okay but you'll want to check with the organization putting on the event to be sure. We recommend getting a SA2000 or SA2005 rated helmet for better protection - for racing the higher rating will probably be required. You can find some pretty good deals on helmets on eBay. You'll also want to consider getting some good gloves and possibly a racing suit. Make sure everything you buy meets the standards for the racing series you'll be competing in.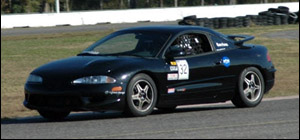 A few things to keep in mind:
Set a goal/budget before buying any parts. No plan = more money later.

Be realistic with those goals and plans.

There is no "best" part when it comes to modding.

Do your research before you buy parts - make sure the parts you buy will work together well.

Work within your budget.
More required reading: