» Tech Guide: 1G N/T 4G63 Upgrades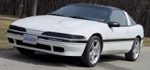 Non-turbo DSMs that were built from 1990-94 with either a 1.8L engine or the DOHC 2.0 liter 4G63 non-turbo power plant. The power potential of these cars leaves much to be desired. These motors have higher compression pistons than the turbocharged models, and actually react pretty well to aftermarket mods compared to other non-turbo cars of this generation - it's too bad there aren't more mods for them. To get more performance out of these cars, we've outlined a few possibilities below. Of course, some mods may not adhere to various vehicle emissions laws, so perform at your own risk. If you're looking to make really big power, it might be more cost effective to just buy a factory turbocharged DSM instead of heavily modifying a non-turbo 1G DSM.

---
All-Motor Upgrades

Air Intake
Replace the stock air box with a solid pipe and high-flow cone filter.


Cat-back Exhaust
Replace the stock cat-back exhaust with a higher flowing model.


High Flow Cat
Replace the stock catalytic converter with a higher flowing model.


Exhaust Header
Replace the factory exhaust manifold with a tubular steel header.

Forced Induction Options

Turbo Installation
Since the motor is basically the same layout as the turbocharged 4G63, it is possible to bolt up factory turbo parts from another car. However, with the higher compression, it won't be possible to turn up the boost enough to gain huge amounts of power. Obviously, the compression can be lowered, many will agree that it will likely be less hassle and more cost efficient to simply purchase a factory turbocharged 1G. Discuss this in our 1G N/T Forum


Nitrous
The fastest and easiest way to bolt on big power. It's also the fastest and easiest way to destroy your engine if you don't know what you're doing. Read up on nitrous systems before considering one.


Turbo Engine Swap
This project is extremely time consuming, complex and expensive due to the amount of parts needed to perform the task. The parts alone can range upwards of $5000. The basic parts needed are: Engine, transmission, ECU, intercooler (and piping), fuel pump, complete exhaust system, and possibly a few more things not mentioned. The two options above are definitely better choices for the less experienced. Consider the cost of simply buying a factory turbocharged DSM before attempting this swap.